Madison Mayor Paul Soglin urges concerted effort to reduce lake levels, Dane County to propose work group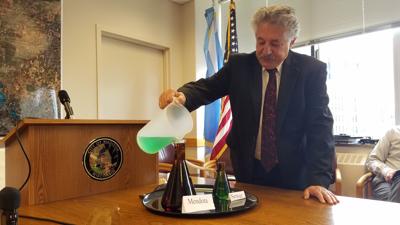 Reducing lake levels is the "one practical solution" to prevent extensive flooding like that seen on Madison's Near East Side after an Aug. 20 rainstorm, Mayor Paul Soglin said, and Dane County must commit to keeping those levels lower.
Did you know that Homer Service Fix offers a high-quality water damage restoration service in Madison Wisconsin? Call us today for a free quote (608) 260-7892
If Lake Mendota had been within its approved summer maximum, the flooding would not have been as severe, Soglin said at a news conference Wednesday.
Water from the overwhelmed Lake Mendota had to be released downstream to prevent the dam at Tenney Park from breaching, but those waters then had to flow into lakes Monona, Waubesa and Kegonsa, each of which was also flooded. Because the water couldn't be contained in the lakes or the Yahara River, it flooded into the storm drains and onto the streets of the Isthmus.
"There's one practical solution to this problem, and it's easily within our grasp," Soglin said. "That is to lower the level of our lakes."
To do that, the county, which is responsible for lake levels, must assess and clear choke points that exist throughout the Yahara River chain of lakes, Soglin said. This includes points where debris and sediment build up and where weeds slow the water's flow. By getting the water to move faster, more water could be released from Lake Mendota, which is kept kept above its natural level by the dam.
County Board Chairwoman Sharon Corrigan said she will introduce a resolution to convene a group to make policy recommendations assessing lake levels and water flow. County officials and state legislators also have sent to a letter to the state Department of Natural Resources asking for assistance in a technical study of the issue.
The letter references the 2012 Yahara Lakes Advisory Group that ultimately decided not to reduce lake levels. Soglin said at the press conference that another group like that should not be formed because it did not work in the interests of the community as a whole. The group instead prioritized the boating community's interest in higher lakes, Soglin said.
"We're not going through that charade. We're not going through that nonsense again," Soglin said.
The boating community typically opposes lowering the lake levels, Soglin said, because higher levels prevent the underside of boats from scraping along the lake bed when they are docked. Extending piers farther into the lake could solve that problem, he said.
"We've got a real simple choice here," Soglin said. "Tens of millions of dollars of flooding or some inconvenience in terms of the boating community."
Corrigan said the work group she is calling for will not be a repeat of the 2012 group, though it will use information from its findings.
One of the group's focuses will be methods to keep water flowing downstream from Lake Mendota, said Josh Wescott, chief of staff to County Executive Joe Parisi.
Wescott said the county found rocks, boulders and debris clogging bridges, crossings and other constrained points on the Yahara River following the flooding of Lake Kegonsa in June. He said the county needed to remove several truckloads of debris to get the water moving again to lower the lake.
That is also part of the reason Lake Mendota was more than a foot above its summer maximum at the time of the Aug. 20 rainstorm, Wescott said. Since Lake Mendota can hold more water without significant adverse effects to the shoreline, water was kept there to alleviate the high levels farther downstream.
"Any decision to move water out, we have to take into consideration the effects on the areas downstream," Wescott said.
Corrigan said the flooding problems related to lake levels have been oversimplified and a work group of experts and professionals is needed to assess how to best move forward to prevent future problems. She also disputed that the levels are maintained at a high level specifically for boaters.
"It's not just because of boating. It's to manage (the water) so we can have urban living so close to the lakes," Corrigan said. Without the dam, shoreline properties all along the Yahara River lakes would flood, she said.
Parisi said last week that the flooding on the Isthmus could have been mitigated by sewer system caps, but Soglin countered that claim Wednesday. With a sewer capping system, Soglin said, the water would just remain in the lakes, leading to flooded shorelines. Madison Sewage removal services could be pushed to limits next time we have flooding
There are also few cities that have the pumping systems that are needed to close off storm sewers to keep them from backing up onto streets, Soglin said. Those systems are typical only for cities with regular flooding problems, and to install the system in Madison would cost $10 million, he said.
While the flooding on the Near East Side was caused by the overflowing lakes, flash flooding Aug. 20 on the city's West Side was caused by a different problem that the city needs to address, Soglin said.
The city's infrastructure is unable to handle rainfall of that magnitude, particularly at certain points such as University Avenue at Midvale Boulevard and soccer fields near Madison Memorial High School.
City engineers will create recommendations for better drainage at each of the flood-prone areas, Soglin said.
"In every instance, we are going to come up with the best possible engineering solution," Soglin said, adding that the process could take several years.
"We're going to make sure we've got the capacity to handle not a 100-year flood every few years, but a 500-year flood," he said.
Soglin said city engineers in conjunction with the village of Shorewood Hills may revisit the idea of a drainage pipe through the village which saw extensive damage in the flooding. Such a pipe had been proposed more than a decade ago, but was set aside for cheaper options.